Dental Patient Information – Chesterton, IN
What To Expect
When You Come to See Us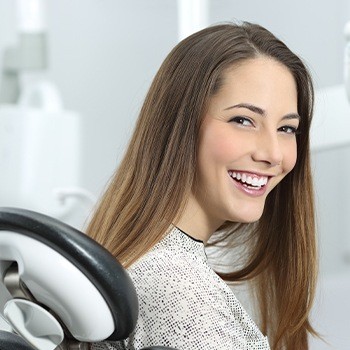 When you become a patient at Advanced Dental Concepts, we want you to feel completely comfortable starting at your very first visit. That's why, on this page, we've outlined everything you need to know ahead of your initial appointment. Be sure to read over everything, and if you have any questions, don't hesitate to give us a call. We can't wait to meet you and give you the gorgeous smile you deserve!
Your First Visit
Once you have been checked in by our friendly front desk team, you'll be given a short tour of the dental office so you can meet the rest of our staff and get to know your new dental home. We'll then bring you to your treatment room where we'll take some X-rays and intraoral photos. You'll then get to meet your dentist, who will spend a few minutes chatting with you before performing an oral exam. Afterward, they will discuss their observations with you, go over any treatments you might need, and make sure all your questions are answered before we escort you back to the front desk.
Share A Smile Referral Program
We love it when one of our patients refers a friend or family member to come see us because it really validates that they trust the care we provide. If you refer a patient to us and they attend an appointment, both you and the new patient will receive a $25 credit you can use to save on any dental service. You can get this for EVERY patient you send our way, meaning the savings can quickly add up!
We Will Take Your Dental Insurance
Trying to figure out the best ways to use your dental insurance can be frustrating, but at Advanced Dental Concepts, we make the process of saving on your care nice and straightforward. We are happy to work with a long list of popular policies. In addition to accepting your plan, we'll also handle the paperwork ourselves to streamline the reimbursement process, helping you gain access to your savings without delay. To learn more about how we could use your plan at your next visit, contact us today.
In network with:
No-Stress CareCredit Financing
If you would like to break up the out-of-pocket costs of your dental care into smaller, easier-to-manage installments, you can do so with CareCredit. They are a third-party financier that works with countless dentists across the country, and they offer several low-to-no interest payment plans that are perfect for just about every budget. You can search for and sign up for a plan right through our website just by clicking on the link below.
Our Advanced Dental Wellness Plan
If you currently don't have dental insurance, then our Advanced Dental Wellness Plan offers a fantastic alternative. One flat fee is all you need to pay to get FREE preventive services and sizeable discounts on many other treatments, all without any monthly premiums, deductibles, or yearly maximums.