Restorative Dentistry – Chesterton, IN
Bring Your Teeth Back
to Full Strength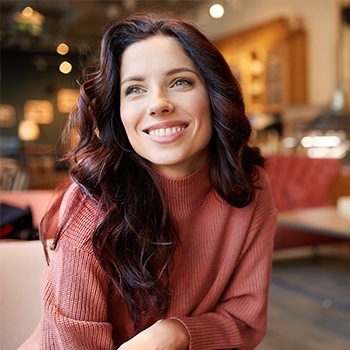 Ideally, tooth decay and other oral health issues are stopped before they even start, but in some cases, they can still occur despite your best efforts. When they do, our dentists at Advanced Dental Concepts will recommend treatments that remove the decayed or damaged areas while saving as much natural dental structure as possible. Once that's done, we can restore your tooth's appearance as well as its function. If you want to learn more about restorative dentistry in Chesterton, IN or you have a tooth that's in need of repair, contact our team to schedule an appointment.
Why Choose Advanced Dental Concepts
for Restorative Dentistry?
Conservative Composite Resin Fillings
Custom-Made Dental Crowns and Bridges
Implant-Retained Dentures Available
Dental Crowns & Fixed Bridges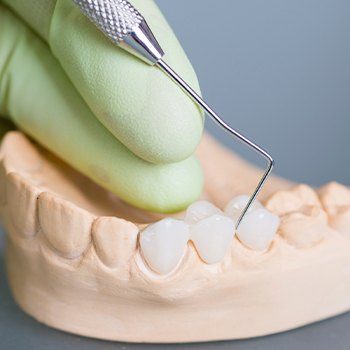 A dental crown is a common restoration that fits over the top of a broken or decayed tooth, improving its strength and protecting it from further damage. Crowns are very versatile; while they're normally used to repair teeth where fillings, inlays, or onlays would not be enough to do the job, they can also be used as a cosmetic treatment for patients with chipped, crooked, or irregularly shaped teeth. You could also receive a crown as part of another treatment, such as to protect a tooth treated by a root canal, to act as support for a fixed bridge, or to top a dental implant meant to replace a single tooth.
It usually takes at least two appointments to receive a dental crown. At the first one, we'll prepare the tooth to make room for the restoration (which usually means removing a small amount of dental structure). The next step is to take digital impressions of your tooth and send the images to a lab where the crown is made. You'll wear a temporary crown to protect your tooth while the permanent one is being fabricated. After a few weeks, your permanent crown will be ready, and you'll return to our dental office to have it placed.
Tooth-Colored Fillings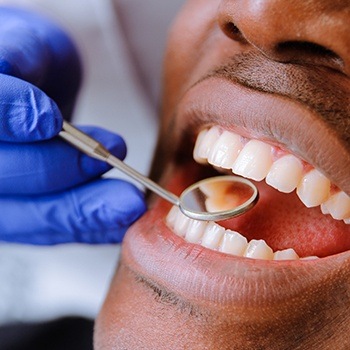 Traditional metal fillings are very durable and effective when it comes to restoring slightly decayed teeth, but at the same time, they require enamel to be removed and tend to stand out whenever someone smiles. If you're concerned about the appearance of your tooth as well as saving as much healthy structure as possible, Advanced Dental Concepts highly recommends the use of tooth-colored, composite resin fillings. Composite resin can be shaded so that it matches the color of your smile, and it takes a putty-like form that can be applied directly to the tooth without needing to remove any enamel. The process can be done in just one appointment, so if you have a decayed tooth, you can rest assured that the damage can be reversed quickly.
Root Canal Therapy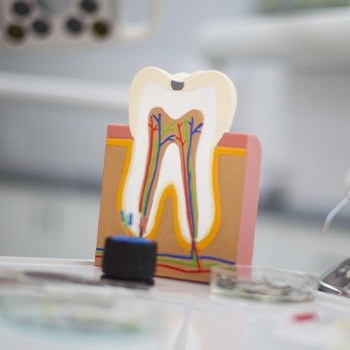 Patients suffering from a persistent toothache might be surprised to learn that despite the procedure's reputation, root canal therapy is a solution for pain and could even mean the difference between losing and saving your tooth. In many cases, the source of severe discomfort in a tooth comes from the soft, innermost layer called the pulp that contains all the tooth's nerves. If a tooth is broken or decayed and isn't repaired in time, the pulp can become infected, leading to pain and putting the tooth itself at risk. Root canal therapy opens the tooth so that the infected pulp and nerve tissue can be removed, relieving the pain. Once the inside of the tooth has been cleaned, it's refilled with a biocompatible substance and resealed. A crown is usually needed afterward so that the tooth can still be used to safely bite and chew.
Dentures & Partials
If you've lost multiple teeth, you'll need a replacement right away if you want to continue to enjoy a balanced diet and a confident smile. If you still have plenty of healthy teeth remaining, we can replace the missing ones with a partial denture that has been designed to fill in the gaps. On the other hand, patients who have lost an entire arch will instead need a full denture. Both kinds of dentures consist of a gum-colored base that supports prosthetic teeth, but partial dentures are held in place by metal clasps while full dentures use natural suction to sit on the gums. For patients that want to give their new smile some added stability, dental implants can be used to support both full and partial dentures.
Tooth Extractions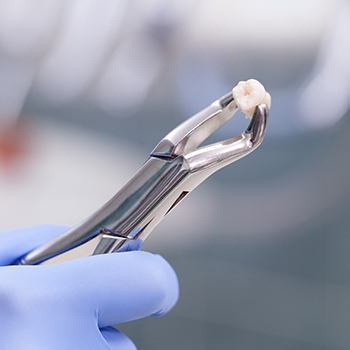 Sometimes, a tooth can simply be so damaged to the point that it cannot be restored and needs to be removed instead. In these situations, the dentists at our Chesterton dental office will make sure that the extraction process is safe and comfortable. We might recommend an extraction under the following circumstances:
Your tooth has been severely decayed or badly damaged to the point where there's simply not enough healthy structure to support a restoration.
Your wisdom teeth are trapped under your gums or otherwise can't erupt without crowding or damaging the rest of your teeth.
We need to make space in your mouth before performing an orthodontic alignment or placing dentures.