How Dental Implants Work – Chesterton, IN
Helping You Understand the Dental Implant Process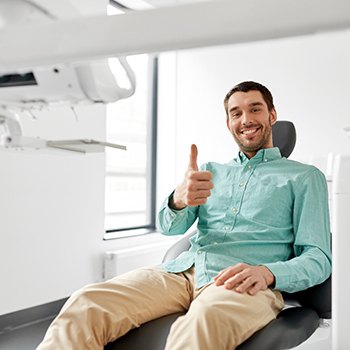 Dental implants are one of the most popular options for missing teeth because of their amazing health benefits and strength. However, the surgical process is more involved than other treatments, which is why we've included a step by step guide for how dental implants work in Chesterton. Read on to satisfy your curiosity and learn what to expect when you choose dental implants at Advanced Dental Concepts.
Initial Dental Implant Consultation
It all starts with your consultation, where you'll visit our office for an appointment with Dr. Hayes or Dr. Zhang. They will carefully examine the number of teeth that you're missing, the condition of your overall oral health, and the strength of your jawbone. From there, they will be able to develop a personalized treatment plan that includes important information like estimated cost and the time it will take to complete your smile. Then, we will schedule your surgery.
Dental Implant Surgery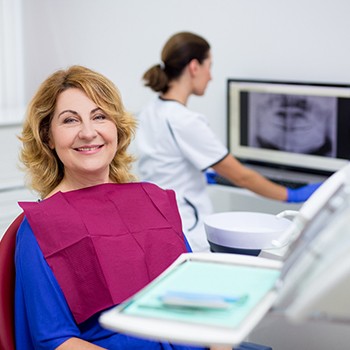 After you come into our office, we will ensure that you feel numb and comfortable before beginning. We offer various options for sedation to help you feel relaxed. Next, our implant dentist in Chesterton will create a small incision on the gums to access the jawbone. We will make a tiny hole, which will accommodate the dental implant. Once it's in place, you'll be provided with a temporary restoration to maintain your appearance before beginning your healing process.
Dental Implant Osseointegration & Abutment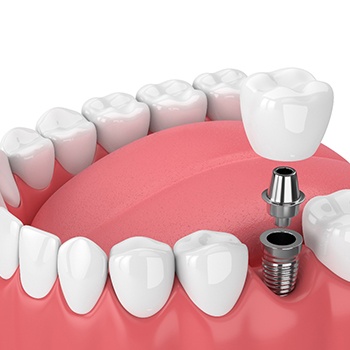 Next, you'll begin a healing process called osseointegration, where the dental implant will fuse to the jawbone. This is possible because dental implants in Chesterton are made of titanium, which is a biocompatible and strong material. The time it takes to heal will vary, but you'll need at least 3 to 4 months for the implant to completely fuse to the bone. While this seems like a long waiting period, it's precisely what allows your dental implant to look, feel, and function like the rest of your smile. Once it's in place, we will mount an abutment on top, which is a small connector that allows us to place the final restoration.
Placement of Dental Implant Restorations
The last part of the implant process is where we mount your restoration. After taking special impressions and images of your smile with your implant and abutment, we will create a dental crown that looks and feels just like your natural teeth. Once mounted on the implant, it will seamlessly blend into the rest of your smile. One of the added benefits of dental implants is that they allow your restorations to mimic the way your natural teeth emerge from your gums. After your restoration is placed, all that's left to do is to walk out of our office with a strong, beautiful, and complete set of teeth.
If you have any questions, please don't hesitate to contact us today!